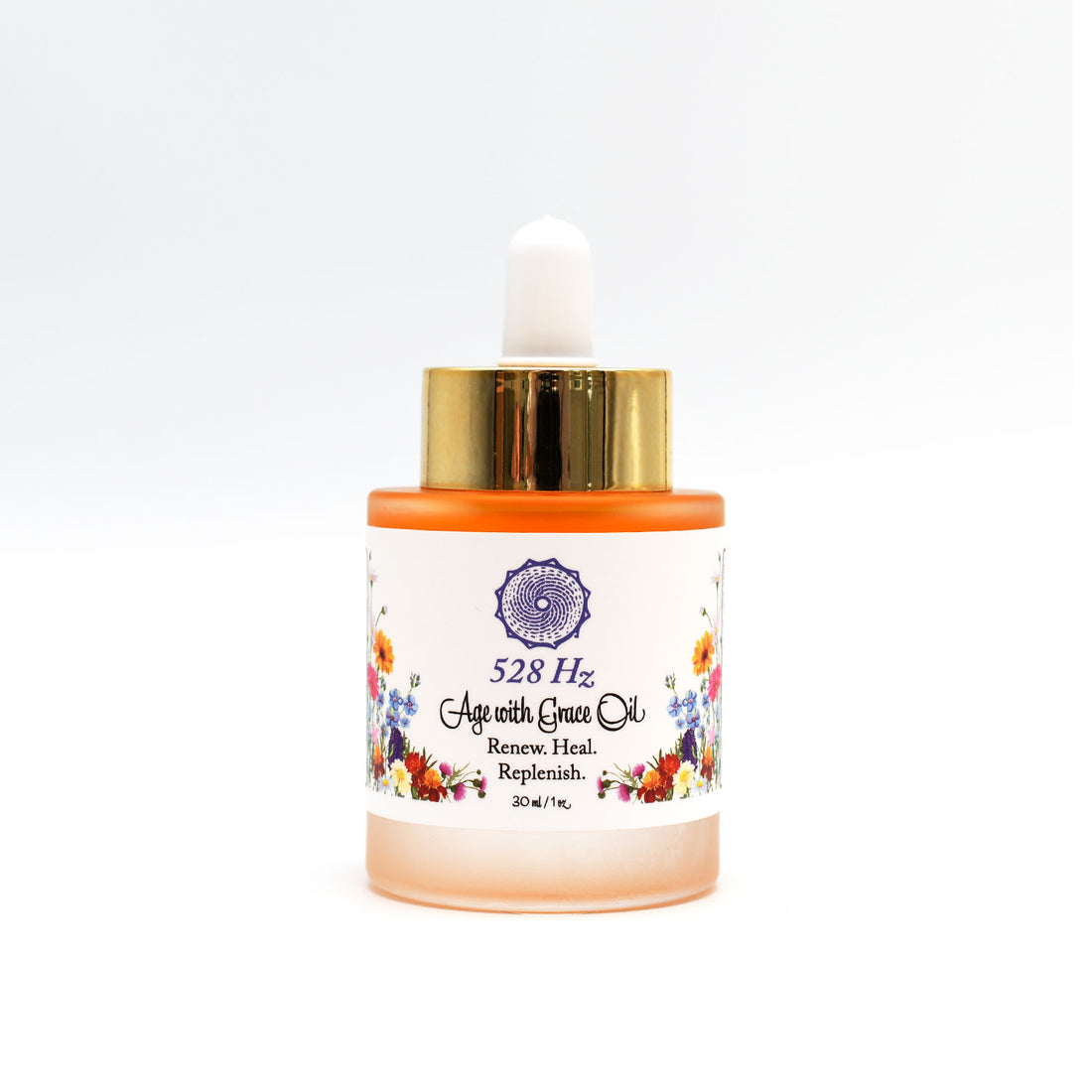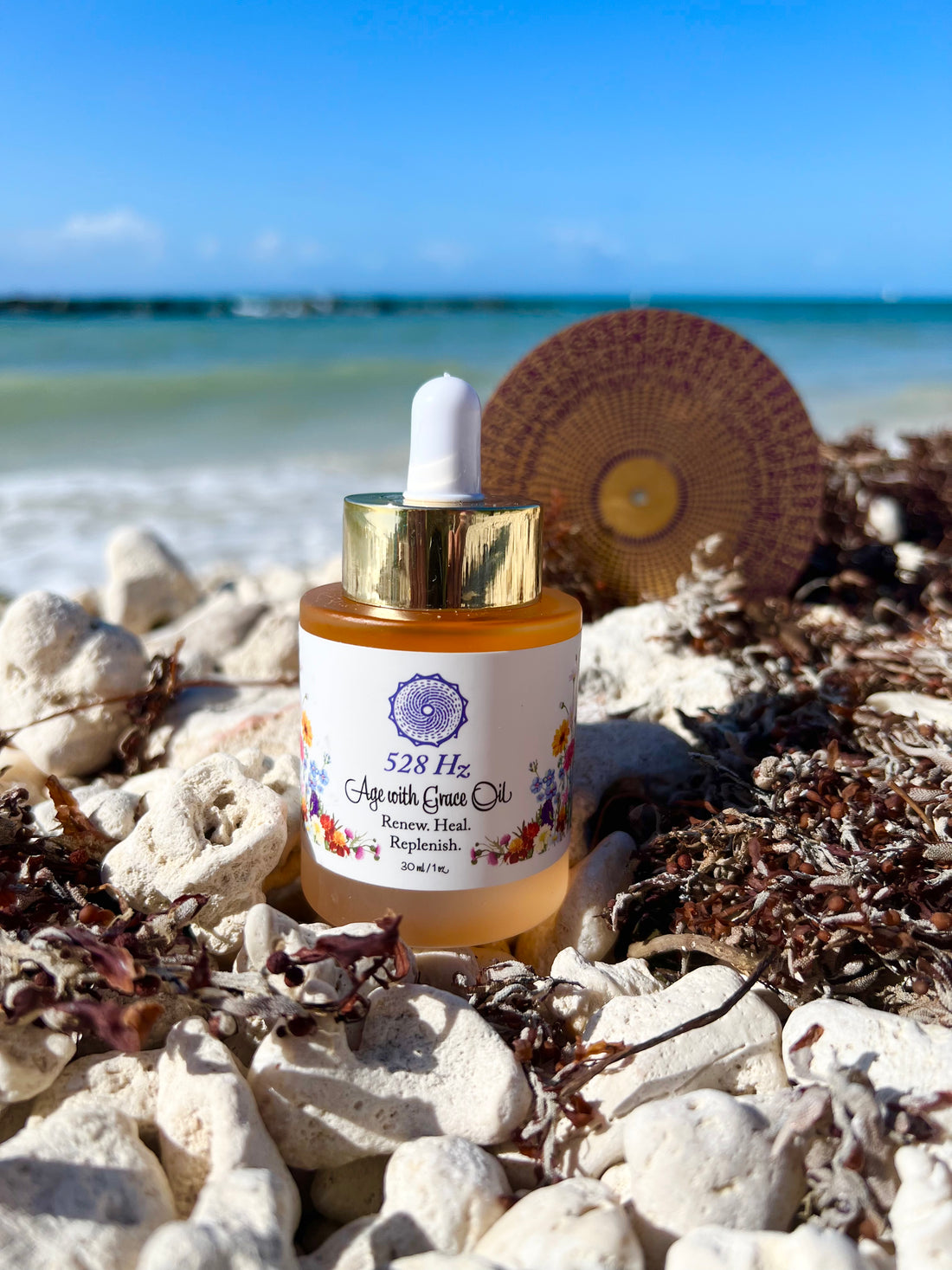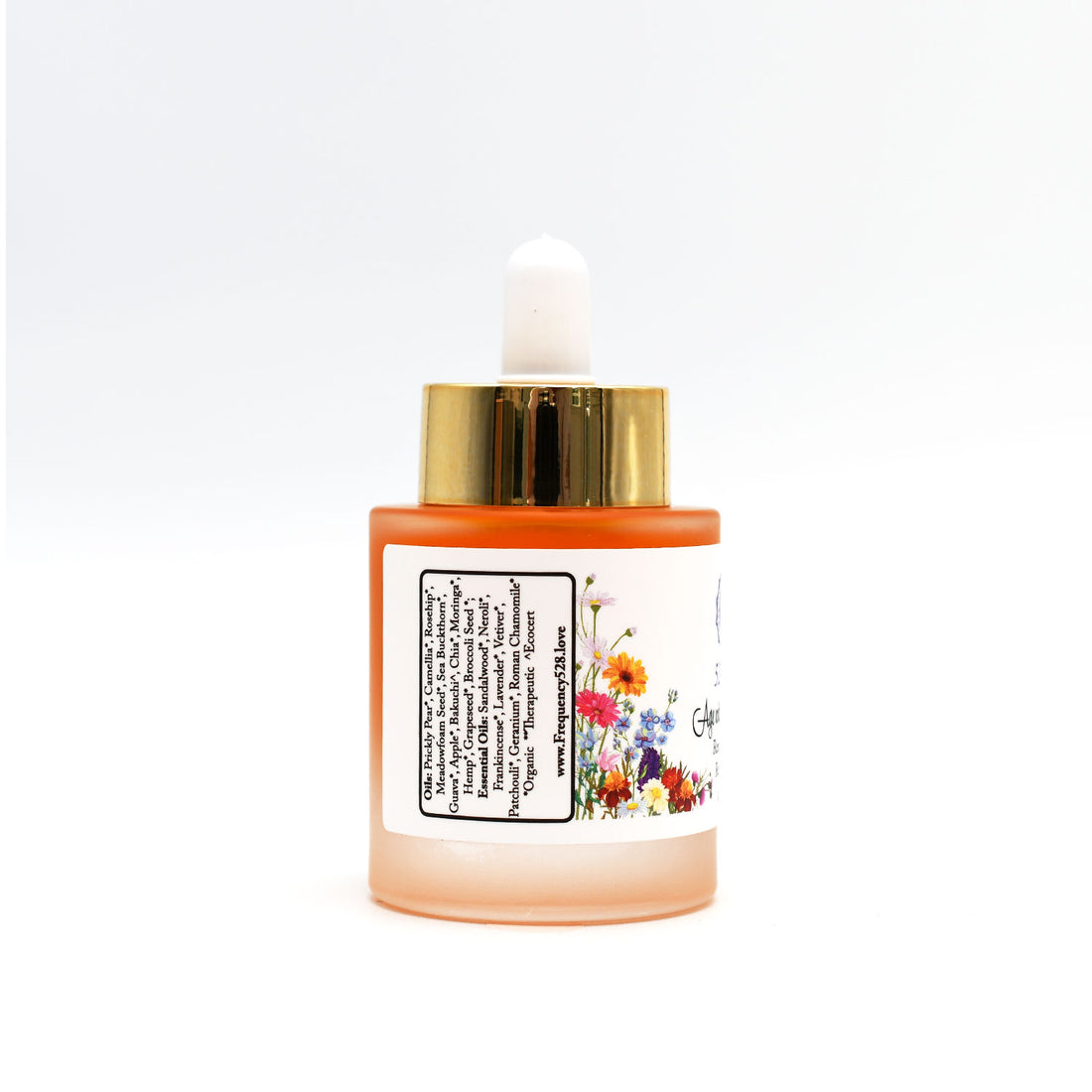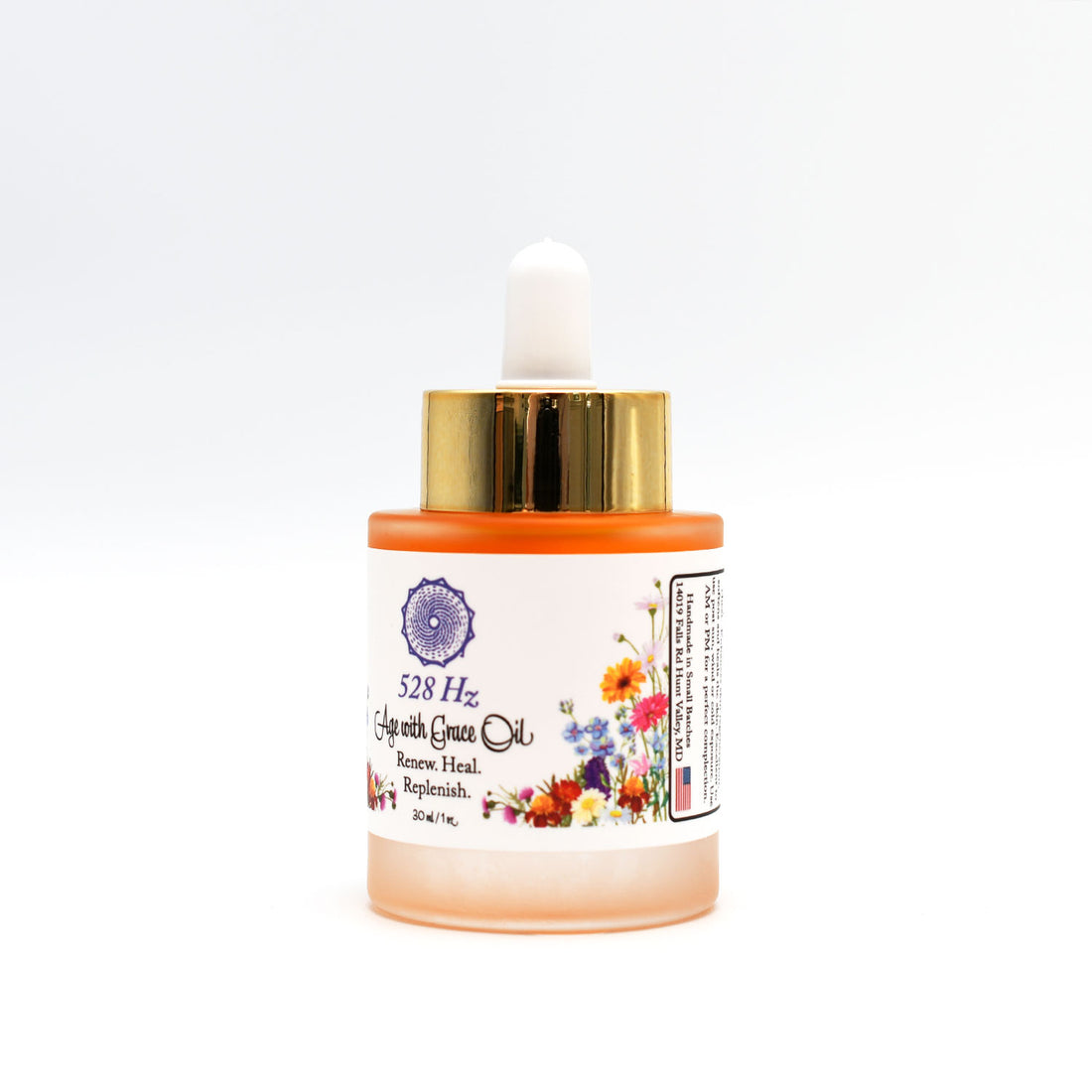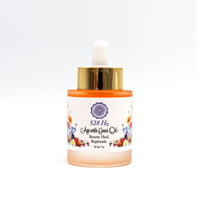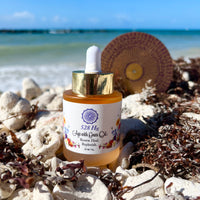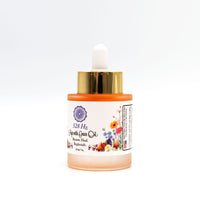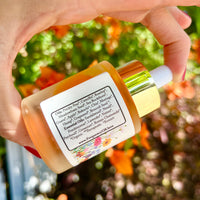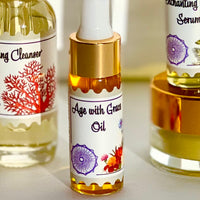 Age With Grace Face Oil - Renew. Heal. Replenish. (30 ml)
Description
How To Use
Ingredients
What if you could bottle up love? When we pondered this question, Age With Grace Face Oil was conceived. From the way this face oil makes your skin feel, to the bright and woodsy notes that invoke feelings of compassion, this oil is like a hug in a bottle that just happens to do work miracles to reverse visible signs of aging and heal your skin.
Benefits:
Retinol alternative that's safe, healthy and highly effective
Reduce wrinkles and fine lines
Brightens complexion
Evens skin tone
Reduces rosacea and melasma
Minimizes breakouts
Plumps & firms 
Deeply hydrates without greasy feel
Provides antioxidant barrier to protect skin
Overnight skin perfecting oil
With 13 rich seed oils and 8 divine essential oils, this unisex face oil is the only moisturizer you will ever need. Strengthens and softens skin while promoting cellular renewal when you sleep so you wake up with a bright, rejuvenated complexion. It even repairs UV sun damage and minimizes wrinkles!
This skincare game changer is intended to mimic the skin's natural sebum, making it suitable for all skin types. It quenches the skin without a greasy, heavy feeling while promoting a nourished, youthful golden glow.
Chock full of antioxidants, omega 3,6 & 9 fatty acids, alpha lipoic acid, linoleic acid and vitamins A & E, your skin basically receives the ideal skin food to keep it fresh looking, firm and toned.
Apply a few drops to back of hand, pat the oil with fingers, then smooth over face. Can use AM or PM. Pairs beautifully with the Enchanting Glow Serum as the AM/PM Duo, in which case, many use Age with Grace Oil as a PM moisturizer.
Most Loved Ingredients:

Bakuchiol: Replaces retinol! Stimulates skin cell turnover, smooths fine lines and wrinkles, and improves skin tone and texture

Broccoli Seed Oil: Broccoli seed oil is high in skin-soothing fatty acids like Omega 6 and 9. Calms irritated, stressed skin while easily absorbed and works to lock-in moisture to keep the skin hydrated and resilient.

Guava Seed Oil: Promotes the generation of collagen, improves skin texture, tightens loose skin and improves skin elasticity. Due to the high antioxidant levels, it fights free radicals and prevents premature aging and wrinkles.

Apple Seed Oil: Stimulates collagen production and activation and an great source of both oleic (32–42%) and linoleic (45–60%) fatty acids, it makes skin look vibrant and firm.

Prickly Pear: Helps prevent premature wrinkle formation, brightens dark under-eye circles, calms redness, helps relieve sunburn, brightens and evens complexion.

Moringa: Fights acne, helps in getting rid of dark spots and repairs damage caused by pollution. Excellent protection in harsh weather as it provides a protective barrier for your skin

Age with Grace Face Oil Ingredients:

Oils: Prickly Pear*, Camellia*, Rosehip*, Meadowfoam Seed*, Sea Buckthorn*, Guava*, Apple*, Bakuchiol^, Chia*, Moringa*, Hemp*, Grapeseed*, Broccoli Seed *; Essential Oils: Sandalwood*, Neroli*, Frankincense*, Lavender*, Vetiver*, Patchouli*, Geranium*, Roman Chamomile*

*Organic **Therapeutic ^Ecocert