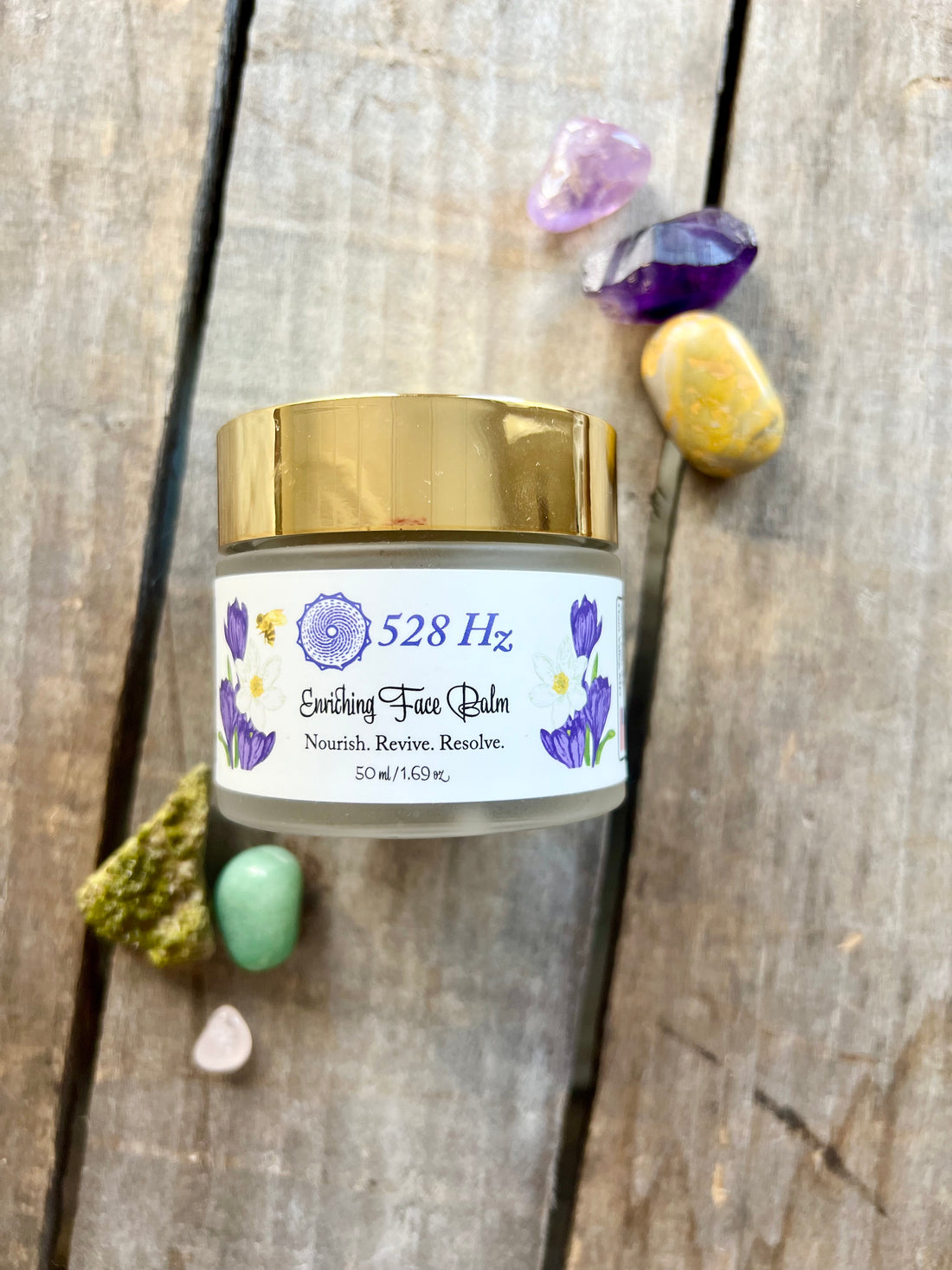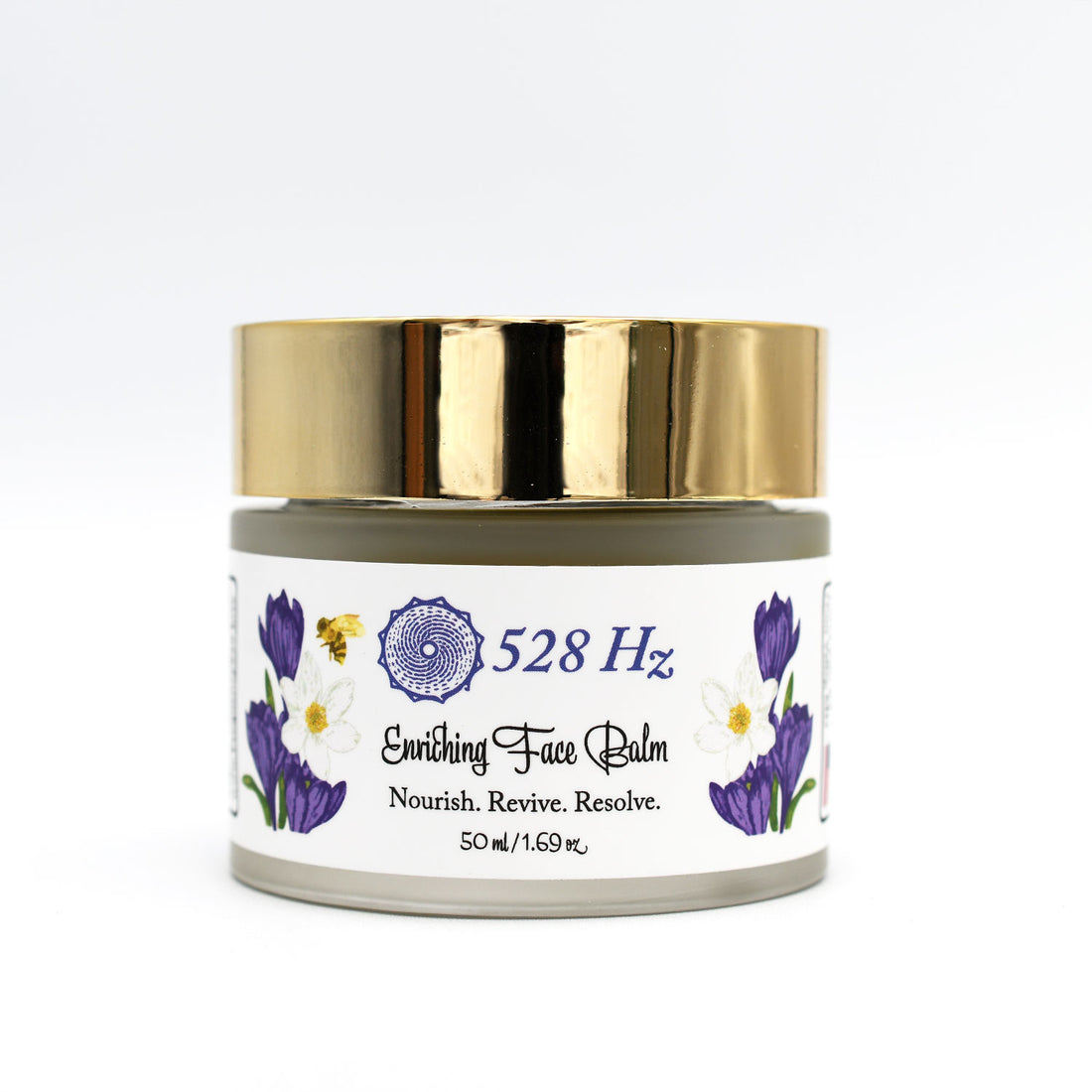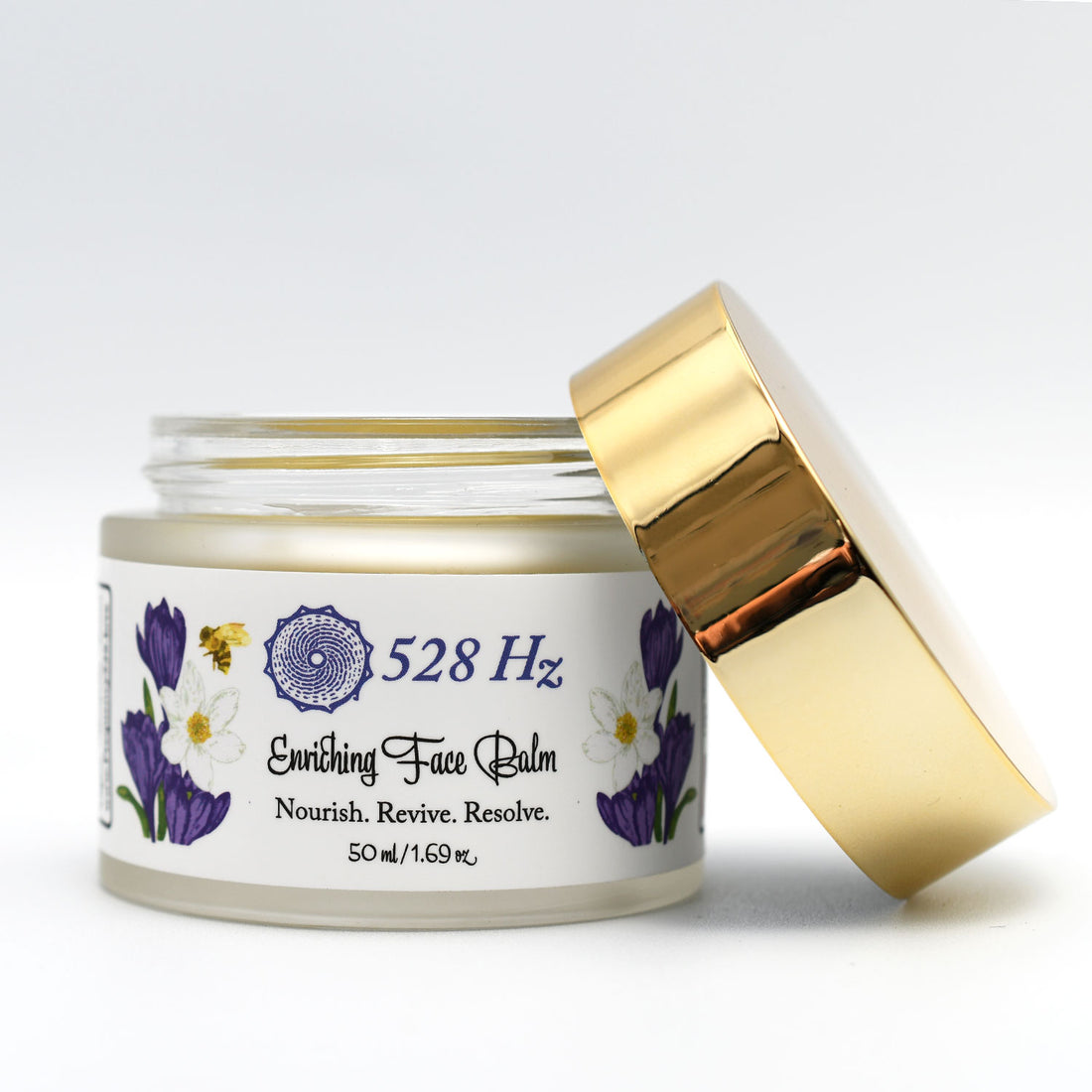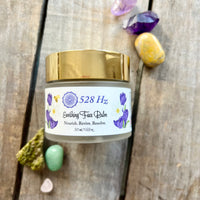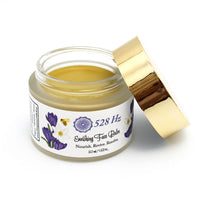 Enriching Face Balm (50 ml/1.7 oz)
Description
How To Use
Ingredients
Tapping into the primitive wisdom of the honeybee, the Enriching Face Balm repairs the skin with velvety soothing plant nectars. This buttery balm heals skin overnight as it is packed with a medicinal retinol alternative called bakuchi oil, Maryland farm beeswax, homegrown callendula infused moringa oil, saffron oil from India, turmeric oil, myrrh and mango seed butter. Enriching Face Balm can be used during day to protect against wind, cold, dryness or for dry skin and as an overnight regeneration treatment.
 Nourish. Revive. Resolve.
Benefits:
Reduces wrinkles and firm skin

Tightens and tones

Relieves under eye puffiness and dark circles

Clears acne and prevents outbreaks

Heals sunburn, minor abrasions, chaps and dryness.
Deeply hydrates and regenerate skin

Retinol alternative

Optimal overnight rejuvenation treatment

Calms redness and inflammation

Heals rashes, sunburns and irritations

The product lasts for months with regular use!
Consciously formulated with love after 10 years of R & D, this medicinal healing Face Balm bestows the essence of natural beauty. Farm to face ingredients where possible and so unique, this product will last months with daily use.
A little goes a long way and the balm needs to be heated to melt it into a smooth buttery cream. Melt a pea size amount between finger tips. Press gently all over face, neck, chest and backs of hands. Apply gently after cleansing. Use AM for deep hydration. Use PM as overnight renewal treatment.
Most Loved Ingredients:

Bakuchi Oil: Improves skin elasticity, firmness, fine lines, pigmentation, smoothness, texture, clarity, radiance, wrinkle depth, acne lesions and appearance of scars.

Saffron Oil: Sacred saffron oil from the delicate strands of the crocus flower, helps in exfoliating and improving blood circulation in the skin. It can instantly freshen up your skin and make it look glowing. Saffron is a great moisturiser, a must for dry skin. Rich in Vitamin A and Vitamin C, helps to brighten, lighten and reduce pigmentation.

Green Coffee Bean Oil: Fights signs of aging by reducing wrinkles and plumping skin, reduces rosacea, heals acne, improves the appearance of scars, reduce effects of free radicals and prevents signs of aging

Guava Seed Oil: Promotes skin tightening, powerful antioxidant which fights free radicals and helps maintain skin elasticity to prevent signs of premature aging and wrinkles

Pomegranate Seed Oil: Boosts collagen production, enhances skin elasticity, reduces the appearance of scarring, promotes the reversal of skin damage, and leaves lasting moisture without leaving a greasy residue or clogging pores

Arnica Oil: Reduces inflammation, treats under-eye darkness, promotes the collagen formation that permits the scar healing, reduces acne


Enriching Face Balm Ingredients:

Mango Seed Butter*, Beeswax*; Oils: Calendula Infused Moringa*, Green Coffee Bean*, Pomegranate*, Guava*, Tamanu*, Arnica*, Squalane^, Bakuchi*, Castor*; Essential Oils: Bulgarian Rose*, Saffron*, Myrrh*, Patchouli*, Turmeric*

*Organic **Therapeutic ^Ecocert